We're less than a week away from the launch of the Samsung Galaxy S9 and we might have just hit the leak jackpot, as a new report includes numerous high-quality renders, marketing materials and details about the S9 and Samsung Galaxy S9 Plus.
Starting with the camera, the standard Samsung Galaxy S9 will apparently have a single-lens 12MP one with a variable aperture, allowing you to switch between f/1.5 and f/2.4. 
The Galaxy S9 Plus meanwhile will apparently have a dual-lens 12MP camera, with one lens said to be a variable aperture one the same as the S9, and the other of which said to be fixed at f/2.4.
Both lenses will supposedly have optical image stabilization and the camera is said to use a combination of laser and dual-pixel autofocus.
They add that both phones will be capable of recording slow motion video at up to 960fps and that there will be an 8MP f/1.7 front-facing camera with its own autofocus, which makes it sound a lot like the same front-facing camera as the Samsung Galaxy S8 has.
Image 1 of 4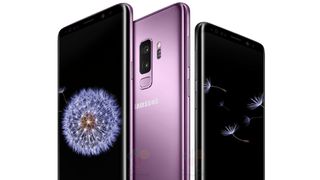 Image 2 of 4
Image 3 of 4
Image 4 of 4
Speakers, screens and everything else
The Galaxy S9 range will also apparently have AKG-tuned stereo speakers with surround sound, and you'll get a 5.8-inch Super AMOLED screen if you opt for the standard S9 and a 6.2-inch one if you go for the S9 Plus – but in both cases there's a 1440 x 2960 resolution and an 18.5:9 aspect ratio. This too is the same as the S8 range, but apparently the bottom bezel has been shrunk.
The report also lists a fingerprint scanner, iris scanner and facial recognition as included features, and says that the octa-core Exynos 9810 chipset (clocked at up to 2.9GHz) will be used in Europe, while the octa-core Snapdragon 845 (clocked at up to 2.6GHz) will be used elsewhere.
You can also apparently expect 4GB of RAM in the Galaxy S9 and 6GB in the Galaxy S9 Plus, while both phones are said – unsurprisingly – to have IP68 certification for dust and water resistance.
There's said to be 64GB of storage plus a microSD card slot, a 3,000mAh battery in the Galaxy S9 and a 3,500mAh one in the Galaxy S9 Plus, with the phones running Android 8.0 and supporting Bluetooth 5.0.
The images here match what we've seen before, but the source notes that the phones will launch in Midnight Black, Lilac Purple, Coral Blue and Titanium Grey. 
And apparently you might be able to pre-order them from February 25, which is the day they're being announced, with them said to be hitting stores on March 8.
Via Winfuture.de
Source Link: This could be the biggest Samsung Galaxy S9 leak yet