In just a few months, it'll have been a year since the newest 12-inch MacBook was released to the public, and more importantly, to online retailers. 
On paper, it was perfect – it was everything we had been pleading for from Apple since the reintroduction of the MacBook in 2015. The keyboard, powered by Apple's proprietary butterfly mechanism switches, was more tactile while the internals of the device say improvements thanks to Intel's 7th-generation Core m3, i5 and i7 CPUs. 
However, seeing how WWDC 2018, the Worldwide Developers Conference held anually by the 'iCompany' every year in San Jose, we have every reason to believe that the MacBook 2018 is about to be unveiled. There are all kinds of rumors circling the internet about what it's going to look like, as well.
From the prospect of a cheaper 13-inch model to that of crumb-resistant and spill-proof inputs, the MacBook 2018 could see some seriously dramatic changes from its predecessor. Let's hope, then, that it doesn't stray too far from the quirks that make it so curiously enticing to begin with. 
Cut to the chase
What is it? Apple's thinnest 2018 laptop
When is it out? April 2018 at the earliest
What will it cost? Presumably the same as current models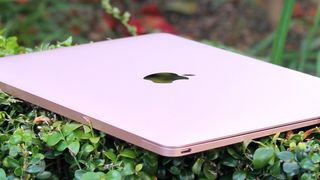 MacBook 2018 release date
None of the most recent reports, rumors or leaks give any lead as to when we'll see the 2018 MacBook. Of course, we'll gladly speculate based on the previous three releases of Apple's 12-inch laptop.
In 2015, Apple released the first MacBook during April, directly following a March keynote. That's a largely odd time for Apple to release a device, but it's happened before. 
Apple followed suit in 2016 with an April release, but not to the same fanfare as the debut. The most recent MacBook release occurred in June 2017, almost immediately following Apple's Worldwide Developers Conference (WWDC) event and alongside the MacBook Pro.
So, this leaves us with two (and a half) distinct possibilities for a 2018 MacBook release. First, Apple could hold another March keynote this year and debut the device there for another April release. Second, the 12-inch MacBook could be under a veil until WWDC 2018 for a June release. And, finally, Apple could release the thing in April with nary a press release – hey, it's been done before.
It's also been reported again that Apple is planning on releasing a cheaper, 13-inch MacBook that's significantly less expensive than they've been in the past. Fingers crossed we'll see it at their keynote next week!
Beyond that, it's anyone's guess as to when we'll see the 2018 MacBook. We'll look out for new rumors and update this article as soon as the MacBook 2018 release date begins to grow clearer.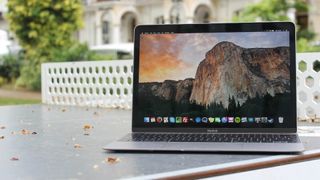 MacBook 2018 price
Again, nothing about the most recent reports and leaks regarding a 2018 MacBook discuss the possible price of the laptop. These types of rumors or leaks usually don't pop up until we get closer to an actual release, so it makes sense.
This is another area where we'll have to speculate based on the current MacBook pricing. The entry-level MacBook runs you $1,299, £1,249 or AU$1,899 to start. Only one other model, with more power and storage, goes for another 300 to 450 bills on top of that.
With the pricing so tight here, amounting to minute differences in hardware between offerings, it's highly unlikely for the MacBook price to budge in either direction. That is short of Apple introducing more capacious storage or higher power options, which will send the price in only one direction: up.
For the MacBook price to come down, something somewhere would have to give – whether that's storage coming down to 128GB to start rather than 256GB or starting memory dropping to 4GB from 8GB is entirely up to Apple. Again, we find this scenario to be highly unlikely, but stranger things have happened.
We'll look out for new rumors and update this article as soon as the MacBook 2018 price begins to crop up as we inch closer.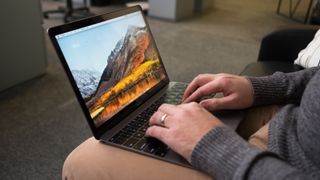 What we want to see in MacBook 2018
All of this uncertainty surrounding a possible MacBook 2018 release is fertile ground for a well-crafted wishlist.
So, here's what we hope to see Apple improve about the MacBook for 2018.
MacBook 2018 keyboard and screen 
Building off of an earlier patent that showed us Apple's plans to create a MacBook with dual screens, there's now rumors that it will use that second screen to create a sort of touch keyboard. We don't know exactly what it'll be capable of, but there's potential there for on-the-fly region changing and easy access to an emoji keyboard – instead of having emoji relegated to the Touch Bar. 
And, of course if Apple does follow through with this keyboard design, they'll implement haptic feedback so that you'll get the same experience as using a mechanical keyboard, only with the flexibility that a touch screen keyboard brings with it. However, it's easy to expect this to raise the price in any MacBook that implements it.
Finally, Apple has been rumored to be working on a MacBook keyboard that's crumb and spill-proof. We first expected this development to result in a product that's been around in Windows-based laptops for years. But, now we're not so sure – perhaps the keyboard is crumb- and-spill-proof because it's a screen. 
More ports, please
Our biggest bugbear with the 12-inch MacBook, since its launch, has been the incredibly sore lack of ports on the laptop. Still equipped with nothing but a lone Thunderbolt 3 (USB-C) port and a headphone jack, this absolutely needs to change in the next version. Just one more?
We've already seen Windows laptops accomplish this feat, like the Huawei MateBook X with its two USB-C ports. Even the similarly priced MacBook Pro has a pair of Thunderbolt 3 connections. Perhaps there's room for a microSD card reader in there, too.
Punchier processors
Costing what it does, Apple really needs to inject some more power into its 12-inch MacBooks. With the onset of Intel processors with AMD graphics onboard, this is the perfect opportunity for the 12-inch MacBook to get a power boost that wouldn't impact battery life.
How, you ask? Well, we immediately look to these new Intel processors with AMD Vega, discrete-grade graphics on board that are already finding their way to new laptops this year. Such an upgrade would put the MacBook into an entirely new echelon of premium stature.
Then again, seeing as the MacBook has consistently used energy efficient Intel Core 'M' and 'Y' series CPUs up to this point, we wouldn't bank on seeing the hardy graphics power featured in Intel's 'G' series chips. And, since there is no 8th-generation equivalent of the 7th-gen Intel Core m3-7Y32 that the MacBook currently uses, it's possible for Apple to switch to an i3-8130U.
Moreover, a recent news story claimed that Apple was planning to ship a trio of Macs featuring its custom co-processors later this year. These are expected to be similar to the T1 and T2 chips found in the MacBook Pro and iMac Pro, respectively. 
Since the 12-inch MacBook doesn't have a Touch Bar, it's safe to assume that if one of these co-processors is implemented, it will be used for the automatic wake and 'Hey Siri' functionality presently exclusive to the iMac Pro. 
Stronger audio and video
Speaker performance and webcam quality are two corners that Apple obviously cut through in crafting the MacBook. With the MacBook 2018, this needs to stop. Tinny speakers and a sub-HD webcam for a laptop this expensive simply isn't acceptable.
Simply bump the webcam up to 1080p FaceTime HD befitting of its price tag, and problem solved. The speakers, however, is a problem we don't necessarily have a solution for. Supporting the speakers with down-throwing bass modules in the base might work?
iOS apps on MacBook
Now that it's been talked about for so long, the idea of iOS apps on macOS has grown on us. We're excited by the prospect of continuing work from our phones straight away on our laptops – or polishing off that top score upon sitting down at the desk.
However, Apple needs to nail how this is going to happen if a MacBook with a touchscreen remains unlikely. Will the mouse simply stand in for our fingers, or does Apple have something clever up its sleeve?
These are the best Macs that 2018 has to offer so far
Gabe Carey has also contributed to this report
Source Link: MacBook 2018: what we want to see