Was this football season finally going to be the one where you said enough is enough: "no longer will I spend my hard earned cash on watching overpaid prima donnas kicking a glorified pig's bladder around a lawn". Well prepare to have your cake and eat it – because BT Broadband is offering FREE BT Sports with all of its broadband packages.
BT broadband has tapped in to the inner psyche of the nation's sport fans as football fever builds towards the start of the Premier league season next Friday August 11. Until midnight on Tuesday August 15, they are waiving the £3.50 per month charge to add BT Sports to its internet plans for a whole year.
That means you get exclusive access to…wait for it…42 Premier League games, 24 FA Cup games, 12 Champions League matches (including the final), 14 Europa League matches (including the final), a bunch of Bundesliga, Serie A and Ligue 1, as well as the crown jewels – the Community Shield!
BT Unlimited Broadband with BT Sports
BT Unlimited Broadband | 12 months | Up to 17Mb | Weekend calls | BT Sports | £9.99 upfront| £24.99pm
Usually, standard ADSL broadband from BT comes out a little more expensive than from other providers. But now you get free BT Sport for a year, it's well worth considering again. Unless you also add a full TV package to your broadband, you'll have to watch BT Sport online or via BT's app. You'll also get a £40 Reward Card – a pre-paid Mastercard you can spend in store or online. Total cost of 12 months £309.87
View this BT Unlimited Broadband plus BT Sport deal
BT Unlimited Infinity 1 fibre broadband with BT Sports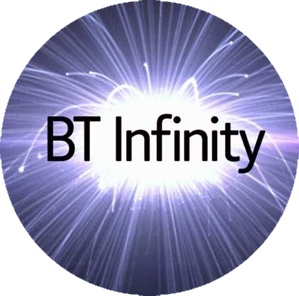 BT Unlimited Infinity 1 fibre broadband | 12 months | Up to 52Mb | Weekend calls | TV Starter + BT Sports | £69.99 upfront| £29.99pm
BT Infinity superfast fibre broadband gives speeds of up to 52Mb (6.5MB per second), which is about 50% faster than most other providers' entry-level fibre speeds. You have to pay an extra tenner for the activation fee, but as well as 12 months of BT Sport you also get BT's TV Starter package (adding the usual Freeview channels), a YouView box and an £80 Reward Card. That's a lot of freebies for your money. Total cost of 12 months £429.87
View this BT Infinity broadband plus BT Sport deal
What other sports does BT Sport show?
BT Sport continues to add more and more sports to its portfolio. If you can't get enough of the sound of leather on willow, then BT Sports has exclusive coverage of the England cricket team's sojourn to Australia for this winter's Ashes. It also has the rough and tumble double threat of Aviva Premiership rugby union and UFC ultimate fighting.
What happens to BT Sport after a year?
After you've enjoyed/endured the highs and lows of the 2017-18 football season, BT will turn off the tap to its free BT Sport subscription. When your broadband plan hits its 13th month, you'll be on the hook to pay £3.50 per month to carry on watching the channels if you go for superfast fibre Infinity or £7pm if you get standard ADSL.
I'm already with BT broadband. Do I get free BT Sport?
You can probably already guess this, but good on you for clutching at those straws. This deal is for new customers only we're afraid. If you want to add BT Sport to your broadband plan, you'll need to pay an extra £3.50 a month for the sport channels.
What is a BT Reward Card?
The Reward Card that BT sends out is a pre-paid credit card that you can use anywhere that accepts Mastercard. In short, that's around a million shops, cafes and restaurants around the world, so you shouldn't find it difficult to find places to spend, spend, spend.
It's an old-fashioned chip and pin card, rather than contactless. But do make sure that you claim your Reward Card within three months of signing up to BT, otherwise you'll lose out on all that cash.
Best broadband deals
If you're still um-ing and ah-ing over whether to go for one of these BT broadband offers, or if you want to see what other TV or phone options there are, then check out our BT broadband deals page – our bespoke price comparison table will help you choose, with packages that include unlimited calls and BT Sports subscriptions. And if you want still more internet alternatives, then head on over to our main broadband deals comparison page.